The Weekend That Was is a new article that will post every Monday and will take a look at the weekend that was in the world of football/soccer. We'll take a brief look at happenings in the English Premier League, La Liga, Serie A, and any other noteworthy occurrences in world football. Let's get it started with our first installment.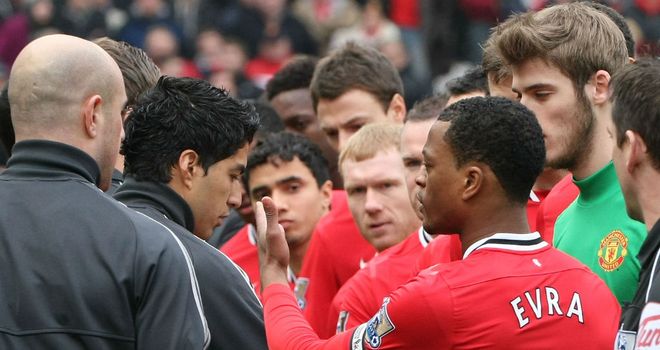 In England, Manchester City stayed top of the table with a 1-0 win at Aston Villa but the big news of the weekend happened at Old Trafford where second place Manchester United beat Liverpool 2-1. The match was overshadowed by the pregame though where Liverpool's Luis Suarez, just back from a suspension stemming from racial comments toward Manchester United's' Patrice Evra, refused to shake hands with Evra. Evra took offense and grabbed at Suarez who then was shunned by Rio Ferdinand who refused to shake the Uruguayan's hand. What was an ugly incident intitially could have been put to rest but both Suarez let it linger. After the match Sir Alex Ferguson called Suarez a "disgrace to Liverpool football club." Later, Suarez and Liverpool manager Kenny Dalglish, who initially claimed he hadn't seen the incident, both apologized. There are now reports that Liverpool will look to sell Suarez as he has "mislead the club" after saying he would shake Evra's hand. This is definitely not over.
In Spain, Barcelona was stunned by a 3-2 loss at the hands of Osasuna and their dreams of a 4th straight La Liga title are all but gone after they are now 10 points behind rivals Real Madrid. The Spanish leaders were led to a 4-2 win over Levante by a Cristiano Ronaldo hat trick. Ronaldo's third goal and the 4,000th at the Santiago Bernabeau, was the exact definition of a "golazo".

http://youtube.com/watch?v=
Af_8RlN7EzA[/youtube]
In news on this side of the world, the United States women beat New Zealand 2-1 in a friendly Saturday at FC Dallas Stadium. Alex Morgan's brace helped the Americans rebound from a 1-0 halftime deficit. In Major League soccer preseason action (to the best of my knowledge);
Chicago beat Chivas USA 1-0
Columbus outscored the US U-17 team 10-0 in 2 matches
Sporting Kansas City defeated DC United 2-1
FC Dallas drew with Argentine side River Plate 1-1 and beat the University of Memphis 6-0
Portland took down Houston 2-0 and drew with expansion side Montreal 0-0
Houston beat LA 1-0 Friday in an MLS Cup rematch (of a much smaller variety)
New England took bragging rights in Boston by beating Boston College 3-0
New York and Mexican side Merida drew 1-1 in Cancun
Philadelphia were held to a 1-1 draw against Florida Gulf Coast University
San Jose beat Colorado 2-1 Friday night
Real Salt Lake and Vancouver played a 125 minute match and managed a goal each
If we've missed any big news please let us know in the comments below. This is just the first in our series of Monday recaps and our goal is to grow it week by week with your input and suggestions. Hopefully each Monday this is a place you will come for your footie fix and to catch up on what you may have missed while doing chores around the house or taking the kids to and from tournaments and matches. Until next week, enjoy the Champions League and the continued MLS preseason.
(image courtesy of skysports.com)